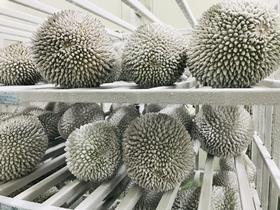 Malaysian authorities see potential for a significant increase in durian exports after the first shipment of whole fruit on 17 June.
China and Malaysia signed a protocol at the end of May to allow frozen whole Malaysian durian to be exported. Previously, Malaysia was restricted to exporting frozen durian pulp and puree to China.
At a flag-off ceremony in Putrajaya, Salahuddin Ayub, Malaysia's agriculture and agro-based minister, said durian production had increased in the country, which would provide Chinese importers with an abundant supply.
'With the export of whole frozen durian today, a new phenomenon will begin in China," Ayub told Xinhua News Agency.
"The ministry estimates that at least 1,000 tonnes, mainly of the premium varieties, will be available in the Chinese market. The value of exports is estimated to be M$500m (US$119m).'
Xinhua News Agency reported Ayub also encouraged Malaysian growers to make sure the fruit being exported remained at a high standard to ensure sustainable trade.
Bai Tian, Chinese ambassador to Malaysia, was also present. Tian said consumers in China were eagerly awaiting the arrival of Malaysian durian.
'In China there is 1.4m people and it is also said, there are 300m to 400m mid-income customers," he said.
"I believe very soon they will have the joy to taste the best of the durian in the world, so I wish the trade for durian between China and Malaysia will flourish and I believe more Malaysian durian farmers will benefit from this durian trade and I am also very much a supporter of the durian tourism plan to be mapped out in the near future."
The first shipment of four tonnes of durian was sent via air cargo, with following batches being shipped to China via sea-freight, in temperature-controlled containers according to a Xinhua News Agency report.