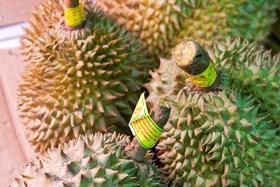 Malaysia's exports of fruit are expected to surpass last year's Rm600m (US$142.2m) and reach Rm700m (US$165.9m), according to the Federal Agricultural Marketing Authority (Fama).
Leading the way is durian exports, which Fama chairman Tan Sri Badruddin Amiruldin said would more than double to Rm150m during 2017 compared to last year.
"We expect more durianorchards to produce high-qualityfruits, (following which) we will export to more foreign countriessuch as China, Hong Kong, Australia, and others," he told the Malay Mail.
Malaysia has access to China and Australia for frozen durian and durian pulp, but exporters are hoping to gain access for fresh durian in coming seasons.
Malaysian's durian shipments were valued at Rm18.02m last year, with Badruddin expecting exports to increase to Rm23.4m.
Around 5,000 tonnes of frozen Musang King durian will be shipping to Guangxi, China, for the Nanning Durian Festival running from 3-5 November.