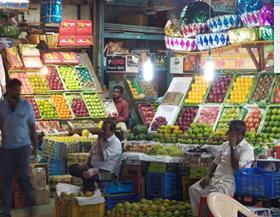 Pune's wholesale fruit and vegetable market in Gultekdi, Market Yard, is close to functioning at full strength again, following the easing of restrictions put in place to stop the potential spread of coronavirus (Covid-19).
According to a report by the Times of India, fresh produce supplies have started coming in from other Indian states including Madhya Pradesh, Karnataka, Gujarat, Andhra Pradesh and Uttar Pradesh.
The market's retail section reopened over the weekend however traders remain uncertain of consumer demand.
Leader of the association of traders and commission agents at the Market Yard in Gultekdi, Vilas Bhujbal, said the daily arrival of produce had increased, although it's not at capacity yet.
"The market functioning is getting back to normal. Now, there is no cap on the arrival of vehicles. The supply of vegetables is still less because the lockdown effect has not worn off completely," said Bhujbal.
The wholesale market closed for one-and-a-half months during the lockdown in April and May, before reopening at the beginning of June.
Initially, it functioned at 50 per cent capacity with half of the traders working on alternate days. As of the weekend, the Agriculture Produce Market Committee (APMC) has officially allowed traders to open their shops with 100 per cent capacity.
Pre-Covid-19, the Market Yard recorded daily arrivals of over 500 vehicles and on Sundays, the inflow would go up to 1,000.
A trader told the Times of India that farmers were sceptical about sending their produce to the market because restrictions remained in place.
The APMC officials told traders to follow the precautionary measures in the marketplace against the backdrop of the virus spread.
"We have told them that restrictions would be re-imposed in case of detection of more Covid-19 cases," an official said.
Retailers in the Mahatma Phule Mandai stressed that daily footfall was still less, meanwhile local mandis at Hadapsar and Khadki have also resumed operations.
Asiafruit & Produce Plus are now available to read on your phone or tablet via our new app. Download it today via theApp StoreorGoogle Playand receive a two-week free trial along with access to previous editions.