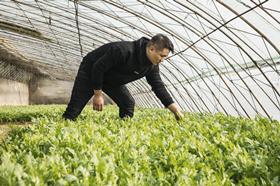 Missfresh has signed an agreement to add nearly 70ha of land in Luliang County in Yunnan Province to its China-wide vegetable farm network.
The addition increases Missfresh's nationwide network of vegetable farms – which directly supply the company with fresh vegetables – to more than 1,300ha.
The Chinese e-tailer has been expanding its supply chain network of farms, factories, and processing facilities across China in order to directly source products from their origin. It is part of a strategy to prioritise growth and profitability by eliminating middlemen, improving efficiency and reducing procurement costs.
Laicang Xiao, who is in charge of Missfresh's vegetable segment that receives a direct supply of fresh produce from the company's farm network, said the latest agreement employs an order-based planting model, which uses sales forecasts to determine production levels.
This allows Missfresh to guarantee the stable supply of vegetables from Luliang County as well as closely control the quantity, quality, and cost of the produce.
Other than Luliang County, Missfresh already directly sources its fresh vegetables from Mengcheng County in Anhui Province, Zhongwei City in the Ningxia Hui Autonomous Region, Zhangjiakou City in Hebei Province, and Tai'an City in Shandong Province – amounting to a total area of more than 1,300ha.