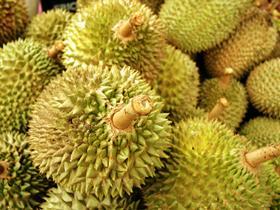 Ekovest has set its sights on the China durian market with plans to acquire a majority stake in PLS Plantations and develop its Malaysian durian business.
According to a report from the New Straits Times, the Malaysian investment company plans to raise its stake in PLS Plantations from 32.84 per cent to 57.38 per cent.
Tan Sri Lim Kang Hoo, executive chairman of Ekovest, said the company had supported PLS in expanding into the durian plantation, production, distribution and related businesses.
Lim told the New Straits Times that PLS, traditionally an oil palm and timber company, planned to buy or form joint ventures for over 200,000ha of agriculture across Malaysia with a focus on durian production.
'We are going into high-tech agro-culture, agriculture and aqua. We are introducing cash crops. The majority of the land will be planted with durian trees, and the produce exported globally with the key market being China,' Lim said.
PLS currently has 600ha of durian plantations and has acquired Dulai Fruits, a downstream durian producer, which holds a licence to export whole fruit durian to China.
'We are expanding the durian business. We will produce durian-based products, pulp and paste, as well as sell fresh durians around the world. We are investing in this as we believe that it will be lucrative and having long term recurrent incomes," Lim said.
'Durian trees have longer survival rates of about 200 years before any replanting is required as compared to oil palm which needs replanting when it reaches about 35 years," he added.
'However, the setback is durian trees take about five to seven years to start yielding. During the interim period, what we are doing is planting other crops."
Lim expects PLS's durian operations, which currently accounts for around 26 per cent of PLS' total earnings, to overtake its oil palm plantation earnings in the next three to five years.
PLS also has a joint venture with a state-owned enterprise in China which serves as the off takers.