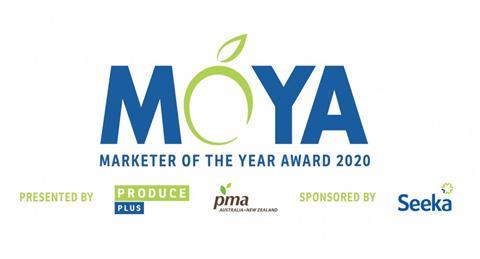 PMA Australia-New Zealand (PMA A-NZ) and Produce Plus Magazine are pleased to announce the finalists for the 2020 Marketer of the Year Award (MOYA), proudly sponsored by Seeka.
Now in its ninth year, the premier award for marketing excellence in the Australasian fresh produce and floral industries attracted an impressive range of entries from all points of the value chain with the judges having their work cut out to select the following five finalists:
–Costa Tomatoes for the 'Perino – Snack Attack' campaign
–Sona Padman from Freshmax Australia for the 'Modi Apples' campaign
–Pinnacle Fresh for the 'Dracula Citrus' campaign
–Driscoll's Marketing Team for the 'Only the Finest' campaign
–Sydney Markets' Marketing Team for the 'Eat Fresh & Win' campaign
Each entry was assessed on how compelling the campaign was, its unique features, how appropriate the marketing tools were to the product and target audience, how well it was targeted at the particular market segment, and evidence of its success.
"We'd like to congratulate our five finalists and thank all nominees for their submissions," said Sam Clayfield, events and marketing manager of PMA A-NZ. 'We received a number of high-quality nominations, which all highlighted the importance of marketing to the fresh produce industry."
With the Hort Connections trade show and conference postponed to 2021, the MOYA 2020 award presentation will be conducted via a webinar, which will stream live at 10am AEST on 16 June. All five finalists will have the opportunity present the key elements of their campaigns via the webinar. The winner will be announced at the conclusion of the online showcase.
"This year, we've once again received some incredible entries for this award, highlighting the excellent and innovative work being done by fresh produce marketers," said Produce Plus Magazine's editor Matthew Jones. "We look forward to celebrating the cream of our industry's marketing crop on 16 June and encourage you to join us."
Register now to join the 2020 MOYA Showcase https://www.pma.com/global-pma/anz/events/2020/moya-showcase
For more information, please contact:
Sam Clayfield
Matthew Jones