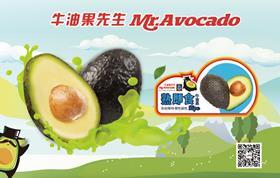 Demand for avocados continues to grow each year in China as more consumers recognise the nutritional value and 'superfood' status of the fruit. To capitalise on the growing demand, Mr Avocado and Aldi China launched a co-branded ready-to-eat avocado product on 23 August.
In a mission to introduce ready-to-eat avocados to more Chinese consumers, Mr Avocado reached out to leading global food retailer Aldi for collaboration soon after it opened its first Chinese store in Shanghai.
Over the past three years of working together, Mr Avocado's ready-to-eat avocados have won over countless shoppers at Aldi's stores in China, and sales have grown steadily. On Aldi China's recommendation, the two parties have launched their co-branded avocado product in recent weeks.
Mr Avocado first launched ready-to-eat avocados in 2017, after seeing a gap in the Chinese market. In order to bring this exotic fruit to more dining tables in China, the company developed various recipes that suit the Chinese palate.
"Today, our daily sales have surpassed 180,000 pieces," said Liu Mosu, Mr Avocado general manager. "We are on track to reach the 260,000-piece mark by the end of this year."
In the past, consumers in China saw cutting open an avocado fruit as a gamble, as they never knew whether the fruit would be good or bad. That was a challenge for distributors dealing with this unique fruit that ripens after harvesting.
From picking, through post-harvest and transportation, to sales, any unprofessional handling can jeopardise the quality of fruit, resulting in consumers having fruit that either never ripens, or is overripe or worse.
Drawing on 30 years of avocado sales experience in North America, Mr Avocado imported an advanced avocado ripening system from the US to China, in order to ensure the highest quality of fruit before distribution to the market. Consumers can now enjoy quality avocados as soon as they bring them home without waiting.
With quality control no longer an issue, Mr Avocado has been extending its reach to more supplying regions, to offer a year-round supply service to all channel clients.
The company has achieved many 'firsts' in China, including being the first to import avocados from Colombia as well as from California in the US. Mr Avocado has close relationships with suppliers in Peru, Mexico, Chile, Colombia and California, and will trial its first avocados from New Zealand this year.