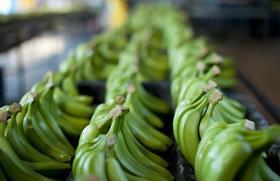 Myanmar's fruit export revenue has reached US$370m in the current financial year (beginning 1 October), with banana exports key to offsetting the effects of Covid-19.
According to a report from the Myanmar Times, the Myanmar Fruit, Flower and Vegetable Producer and Exporter Association said the current total is similar to revenues generated over the same time period in previous financial years.
The association said Chinese demand for Myanmar bananas had risen counterbalancing a decline in some other fruits such as watermelons.
Daw Sandar Myo, secretary of the association, told the Myanmar Times if it wasn't for the disruption caused by Covid-19, they would be on track for a strong year.
'Our fruit export income would have increased by a lot more if we had a better system to manage wastage at the border," Myo said.
"Currently, about 80 percent of locally produced fruit has gone to waste as a result of disruptions from COVID-19,'
Watermelons and cucumbers are usually two of the country's top exports to China, its main market, and had been increasing in recent years, however, this trend has reversed with the onset of the pandemic.
Asiafruit is now available to read on your phone or tablet via our new app. Download it today via theApp StoreorGoogle Playand receive a two-week free trial along with access to previous editions.