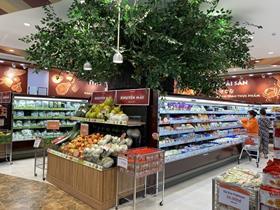 Sumitomo Corporation has announced it will aggressively expand its FujiMart grocery supermarket chain in Vietnam opening by opening 50 new stores by 2028.
Sumitomo has signed an agreement to extend its partnership with BRG Group – one of Vietnam's leading, private, multi-sector, enterprises –to develop the FujiMart chain.
Sumitomo and BRG Group opened the first FujiMart store in Hanoi in 2018, with three currently in operation, and have been verifying market characteristics as well as business feasibility through the operation of these stores.
The pair plan to open five to ten new stores per year from FY2022 onward, promoting digital transformation and improving operational efficiencies to meet the needs of Vietnamese customers.
"In recent years, the overall grocery retail market in Vietnam has been expanding rapidly due to rising personal incomes and improved living standards bolstered by economic growth," Sumitomo said in a press release.
"In addition, growing consumer awareness in areas of food security and safety, including hygiene measures taken to fight Covid-19 infections, has led to a shift from traditional retail outlets run by individual proprietors to modern stores, such as supermarkets and convenience stores which offer superior levels of safety and convenience."