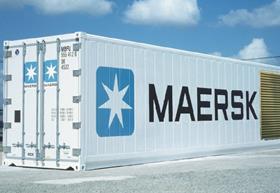 The recently announced Daily Maersk Service, introduced for Asia-Europe trade, could force less competitive or smaller shipping groups to exit the market.
That is the verdict of international financial conglomerate Citigroup's shipping analyst Rigan Wong, who has outlined a number of candidates to quit the trade in IFW.
'The combination of mega-sized vessels that offer significant economies of scale, frequent departures, fixed schedules, refunds for late delivery and no surcharge for reliability, may cause existing players with smaller ships or uncompetitive cost bases to exit the Asia to Europe trade,' Hong Kong-based Wong told the publication.
Potential victims of the Maersk service could include Taipei-listed Yang Ming and Japan's K-Line, according to Wong.
'Yang Ming faces huge earnings downside risks from its Asia-Europe exchange exposure, as it has no scale advantage with its fleet of smaller vessels, sank into heavy losses in Q2, has a weak balance sheet and currently trades at valuations that are richer than its peers,' he said.
Despite this, Wong noted that Hong Kong's OOCL had a strong enough balance sheet to allow it to acquire the larger vessels needed to compete with Maersk.