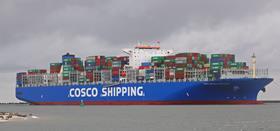 A new shipping route, dubbedthe 'Fruit Express Line' of Southeast Asia and operated by COSCO Shipping, has been officially launched by Liaoning Port Group and will link the Dalian Port in northeast China's Liaoning Province with Vietnam.
According to a report published by XinhuaNet, the first shipment, 565 tonnes of Vietnamese grown dragon fruit, arrived at the Dalian port seven days after departing Ho Chi Minh City.

The new route is Dalian Port's 15th foreign trade route and saves between three to five days in travel time compared with other shopping routes linking the port with Southeast Asia.
The fruit was distributed to major supermarkets in Dalian and surrounding provinces and cities within 24-hours after unloading.