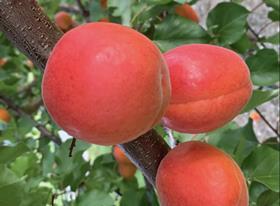 New Zealand horticultural specialist Hortinvest has teamed up with the cattle and sheep farmers behind Central Otago's Ardgour Station to establish Ardgour Valley Orchards (AVO).
Hortinvest's Ross and Sharon Kirk and Ardgour Station owners Bruce and Linda Jolly will oversee the development of AVO, which aims to produce apricots and cherries for export in early 2023.
Orchard and project manager Ross Kirk said AVO will span 38ha within Ardgour Station. Two thirds of the orchard have been set aside to produce new apricot varieties – namely NZ Summer 2, 3 and 4, which were bred by Plant and Food Research at its Clyde site. The rest of the orchard space will be dedicated to a mix of red and white-fleshed cherry production.
"Ardgour Station is positioned in a long, fertile valley with plentiful irrigation and ideal growing degree days. It's surrounded by exquisite mountains and set on a family owned and run property in the heart of the Central Otago growing region – all key to growing superb fruit for export customers, particularly in Asia," Ross Kirk said.
"Cherries are a high value crop and there's growing demand from Asia for New Zealand's crop. Our unique market position leading up to Chinese New Year allows cherries to achieve a consistently high price.
"These new apricots were bred for New Zealand growing conditions. They're colourful, firm, sweet and full of flavour – attributes our customers are asking for. Their bright colour is perfect for the Asian market. It's an opportunity to produce an outstanding flavoured fruit - it's what a true apricot should be."
Hortinvest will manage AVO's orchard and harvest and export operations.