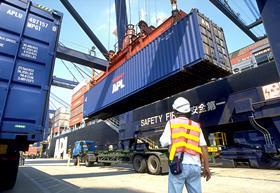 Congestion at China's Port of Yantian continues to cause large-scale disruption to global supply chains and shipping companies do not expect any relief in the near future.
Ever since the first Covid-19 cases were recorded on 21 May, the Port of Yantian – one of the world's largest container ports - has run at reduced capacity causing significant delays.
On 17 June Maersk advised after a six-day stop on export containers, port authorities announced that productivity was set to gradually increase as more workers return and more berths reopen. However, it said "the damage had already been done".
"The estimated wait is over a fortnight, causing many carriers to divert vessels to other ports. In total, over 300 sailings from all liners will omit Yantian and for Maersk, 19 of our mainline services have been affected," Maersk said.
The congestion at Yantian has also flowed onto other ports in the region, on 21 June Maersk said the average waiting time in Shekou, Nansha, and Hong Kong was between 2-4 days, a number it expected to rise as more carriers omit Yantian.
"We also want to advise that shipments not directly impacted by the Yantian situation might also be affected as we adjust our network to avoid port congestions and to limit the overall net loss of ocean network capacity due to omitting the Port of Yantian," Maersk said in an advisory.
With the global freight network still dealing with the fallout of March's Suez Canal incident, the situation in Yantian has exacerbated existing delays creating at least for the moment, a "new normal" according to Maersk.
"The trend is worrying, and unceasing congestion is becoming a global problem. Due to Covid-19 and a significant volume push since the end of last year, terminals are becoming global bottlenecks, be it at berths, yards or gating out cargo, and it's continuing throughout the logistics chain – in the warehouses, the distribution centres – with numbers on the rise," Maersk said in a statement.
"The most prominent bottleneck right now is Yantian given the sheer size of it, with it being the third largest terminal in the world, but still there are many other ports where a one- or two-day wait is becoming the norm, even if arriving on time."