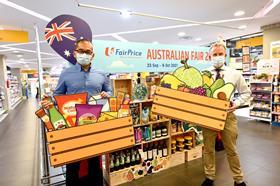 Supermarket chains Coles and NTUC FairPrice have announced a new partnership that will see more Australian products promoted in Singaporean stores.
The new alliance agreement was signed in the first week of April when a FairPrice delegation visited Australia to tour suppliers and Coles stores. The Singaporean retailer's trip marked its first visit to Australia since the start of the pandemic.
As part of the deal, 140 Coles private label products will be stocked on FairPrice shelves, the retailers will also work together on joint sourcing. This will help facilitate the export of smaller private-label brands that don't have the capability to expand into Singapore on their own, including fresh fruit and vegetable suppliers.
The new agreement was brokered by Austrade as part of the Australian government's Agribusiness Expansion Initiative (ABEI) to support Australian agricultural exporters seeking to diversify their market base and continue to grow sales in existing markets.
Speaking with Asiafruit Tng Ah Yiam, chief procurement officer at FairPrice Group,said the partnership with Coles would expand the retailer's Australian offering and help satisfy consumer demand for Australian products.
"Close to about 10 per cent of the products sold at FairPrice Group are from Australia and Australia is one of our largest trading partners. We have been talking to Coles for the last year about a potential partnership alliance and looking at the range of products that they are able to export to FairPrice in Singapore,"
"The products that we will bring into Singapore will be a premium range to complement what we have currently. Singaporeans perceive Australian products as quality and premium and I think this fits in very well to our assortment."
The deal was announced at the opening of FairPrice's Australia Fair on 7 April, a two week long promotional event spotlighting Australian products in-store and online.
Tng said demand for Australian products is increasing in Singapore, which aligns with recent consumer trends such as food safety and sustainability.
"As you look at the consumer in Singapore today, they have better income and the younger generations are looking for a better quality product and they are prepared to pay more," said Tng.
"When we talk about Australian fresh produce the first things that come to mind are safety, quality, traceability. For example, one of our top selling vegetables is Australian broccoli and Singaporean consumers are prepared to pay a premium for Australian broccoli, even during offseason."
Coles expressed its excitement to work with Singapore's largest supermarket chain and expand its export footprint.
"We are delighted to launch a number of these products for sale at FairPrice in Singapore to showcase their amazing quality and to continue to drive growth in our Own Brand business globally," said a Coles spokesperson.
"Coles has been exporting high quality Australian food for over 20 years.Exporting to more than 30 countries, with a focus on Asia."
Austradesaid Singapore was a valuable trade partner for Australia, with exports to the Asian nation growing more than 13 per cent last financial year (12 months to 30 June 2021).
"Austrade was proud to assist the Coles-Fairprice deal under the A$72.7m (US$53m) ABEI, which was designed to help Australian farmers, foresters, fishers and food exporters expand and diversify their export markets, with a focus on ASEAN," said the spokesperson.
"Singapore and Australia share a longstanding and strong trade partnership. Many of Australia's agricultural, aquaculture and food and beverage products adorn the shelves of Singapore supermarkets, take pride of place in home pantries, and are featured on the menus of high-end restaurants and street hawkers alike."