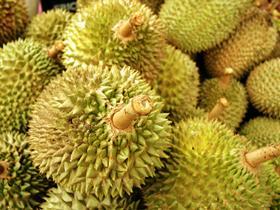 Global Agricapital, a subsidiary of NutryFarm, has signed a MOU with e-commerce company Ebuy to expand its durian business in Singapore.
Under the MOU, Ebuy will import and distribute pre-packaged durians into Singapore from Malaysia and Thailand on behalf of Global Agricapital, and its suppliers.
In turn, Global Agricapital has agreed to ensure the consistent supply, quality and authenticity of the pre-packaged durians from its suppliers.
Ebuy is a leading distributor of fresh produce in Singapore, including daily fresh vegetables and fruits, to foodservice providers, retailers, restaurants and hotels. It has 13 refrigerated warehouses in three locations with 16 trucks.
This is the latest in a series of durian supply agreemnets from Nutryfarm. since December 2020, it has announced various agreements to sell a total of 1,480 containers of fresh durians from Thailand to major Chinese fruit importers. The total contract value of these agreements is estimated at approximately Rmb 962m (US$149m).
The parties expect to start the first shipment of durians by 1 June 2021.