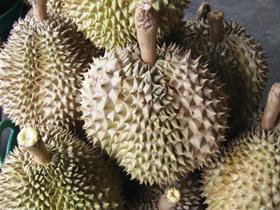 NutryFarm International has announced its subsidiary – Global Agricapital Thailand (GAT) – has secured a sales order for the delivery of 100 containers of Thai durian from Anhui Dingguan Supply Management.
Worth approximately Rmb65m (US$10m) the first shipment of the fresh fruit to the Chinese company is expected in November 2021.
Since December 2020, NutryFarm has announced various agreements to sell fresh durians from Thailand to major Chinese fruit importers and the total contract value of these agreements has exceeded Rmb1bn (US$154m).
Cheng Meng, executive director and chief executive of NutryFarm, said the demand for durian would continue to grow and the company was well placed to capitalise.
"We are seeing that the demand for fresh Thailand durians has started to outpace supply, as durian trees requiring at least five years to start bearing fruits. Furthermore, as an agricultural produce, the durian trade requires significant technical know-how and industry networks," said Cheng.
"With the growing middle class in China, we believe that there will be more demand for fresh Thailand durians as it gains more popularity and there are opportunities for durians to be further processed into other popular consumer products such as dried durian, durian biscuits, durian cakes, etc.
"Leveraging on our capabilities and growing reputation in this specialised agricultural trade, we will continue to build on this momentum to secure new orders from existing and new customers in Asia."