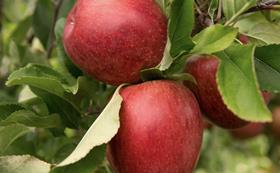 T&G Global will begin exporting new season New Zealand-grown Envy apples this week.
The first consignment will depart thePort of Napier bound for Asia.
Around 2m cartons of New Zealand-grown Envy will be shipped to consumers in 60 countries this season.
"Last year in Asia we had a sell-out season, with all of our New Zealand-grown Envy selling out ahead of schedule," said T&G Global's director of sales, Rachel Stotter. "Our Northern Hemisphere-grown Envy also sold well in Asia, following successful marketing campaigns for Chinese New Year. This puts us in a great position for our New Zealand Envy growing season.
"Across in the United States, it's looking to be another year of growth for Envy. We saw strong sales momentum during the Northern Hemisphere growing season and their sales programmes are on track to be completed shortly, with our New Zealand grown Envy apples arriving at the perfect time to continue building on this."
Envy apples are produced in New Zealand by T&G Global and its network of growers across the Hawke's Bay, Gisborne and Nelson.
Despite the continued volatility and global supply chain challenges caused by Covid-19, T&G Global has confidence in the shipping programme it has put in place.
The company is working closely with shipping partners and collaborating with fellow New Zealand horticultural exporters to charter vessels.
"Without a doubt the industry faces considerable pressure this season, with labour shortages and congestion in global shipping networks," said T&G Global's director of operations, Craig Betty. "Our team is being creative in solving these head-on and doing everything we can to deliver another exceptional Envy crop.
"To ensure our premium apples arrive on time in North America to meet our customers' needs, we're working alongside fellow exporters, including Zespri and Bostock New Zealand, to charter and co-ship our fresh produce to the States.
"In addition to our commercial shipping arrangements, over the course of this season we expect to charter six vessels to North America, departing from various ports including Napier, Nelson and Tauranga, this will help us navigate any challenges in getting our great-tasting premium fruit to market."