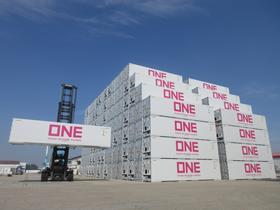 Ocean Network Express (One) has expanded its refrigerated container (reefer) fleet by adding another 27,500 new units.
This addition includes 850 units equipped with advanced controlled atmosphere technology and comes on the heels of 5,000 units (all 40-foot high cube) invested by One in early 2020.
Hiroki Tsujii, managing director, marketing and commercial of One, said these units will be used to meet the growing demand for refrigerated cargo around the world.
"One now has one of the largest and youngest reefer fleet in the world, equipped with the most advanced technologies designed to handle perishable cargo demand," said Tsujii.
"Since inception, One has been consistently investing in new reefer containers, which in turn has helped to position ourselves in a strategically important & growing business segment.
One is also working towards the application of the latest IoT technology into its fleet of reefer containers to provide real-time visibility of critical information such as the temperature and humidity inside the container.