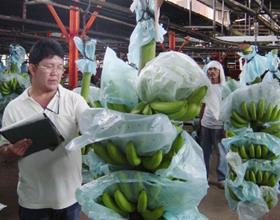 Government officials from Oman and the Philippines have heralded potential growth in fresh produce trade between the two countries.
At a meeting last week, Oman Chamber of Commerce and Industry (OCCI) chairman Khalil Bin Abdullah Bin Mohammed Al Khonji told Philippine ambassador-designate Joselito A Jimeno that demand for tropical fruit was on the rise in Oman.
Chairman Al Khonji said bananas, pineapples and mangoes were gaining a foothold in the market.
With the shortage of current supplies of the fruits to the Middle Eastern nation, opportunities existed for partnerships between Omani and Philippine companies.
He said it was a promising area for Omani investors to explore in the Philippines.
The meeting was part of a effort to "intensify" relations between the two countries, according to the Philippine Department of Foreign Affairs.
During the meeting, Ambassador Jimeno proposed bringing over Philippine experts to run a forum on doing business in the country for Omani investors.