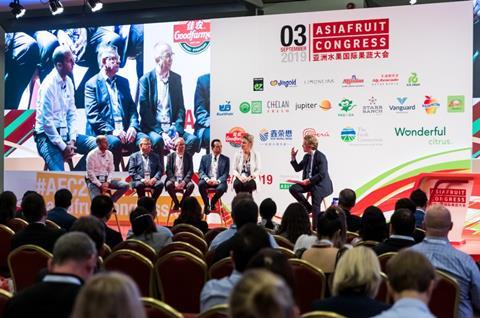 Asiafruit Congress, Asia's leading conference event for fresh produce decision makers, is going online this year. Its fast-moving programme covers all the latest market trends and opportunities – from the digitalisation of Asia's fresh fruit and vegetable business to innovation in consumer marketing post-Covid-19.

Asiafruit Congress ON livestreams to global viewers on 17 November 2020 and sets the scene for Asia Fruit Logistica ON from 18-20 November. Asiafruit Congress ON is free to join for all Asia Fruit Logistica ON attendees and streams from a new high-tech platform to maximise delegates' reach and business connections.

Marking its own move to go digital this year, Asiafruit Congress ON kicks off with a look at how Asia's fresh fruit and vegetable business is also going digital in 2020. The digitalisation of traditional and neighbourhood retail formats across Asia has accelerated during the Covid-19 pandemic, driven by investments from retail giants and big tech companies. Industry leaders discuss what these trends mean for fresh produce suppliers, while also exploring how marketers are adopting digital platforms for their own businesses. The emerging influence of blockchain on Asia's fresh supply chain also comes under the spotlight in the opening session.

Feeding urban Asia is a growing challenge amid increased pressure on land and resources and the influence of climate change. The session 'Green future: new production models' zones in some of the innovations leading the way to a sustainable farming future, from vertical farming to heat-resistant varieties.

Consumer behaviour has changed across Asia during the pandemic. How are consumers rethinking how they shop and eat? What are the long-term consequences and new marketing opportunities? Leading consumer market analysts share their expert insights in the session 'Asia's new consumer landscape post-Covid', which also looks at some innovative marketing approaches from fresh produce suppliers.

'Category spotlights: what's new in Asia?' then zooms in on some of the most exciting fresh fruit categories in Asia, hearing from leading global suppliers on the big trends and emerging products and origins across each category.


Asiafruit Congress ON wraps up with a focus on the new shape of Asia's fresh produce trade post-pandemic. How have Asia's fresh fruit imports been affected by Covid-19? What shifts are occurring in sourcing? How are leading importers and suppliers adapting their businesses, and what are the future opportunities?
'Our delegates can look forward to five sessions of first-class insight to how the market has changed, where it is headed and how to do better business in Asia,' said Fruitnet's Asia editorial director John Hey, who manages the programme for Asiafruit Congress. 'And this year, they'll be able to join the event live on their mobile device, wherever they are in the world.'

At Asiafruit Congress ON, we're also celebrating the winners of this year's prestigious Asia Fruit Awards, the only pan-Asia awards for Asia's fresh produce business. The winners are announced and presented with their awards at Asiafruit Congress ON by Asiafruit Magazine and Asia Fruit Logistica.
Asiafruit Congress ON continues during Asia Fruit Logistica ON. Live highlights and hosted interviews are streamed each morning of the show on 18-20 November.
Asiafruit Congress ON sponsors benefit from extended reach and excellent profile for their business and brands before, during and after the event. More information on sponsorship packages is available here.