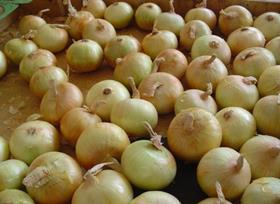 A Philippine industry group official yesterday announced plans to resume white onion and ginger exports after more than a decade, Business World Reports.
'Now, through the efforts of the Department of Agriculture and private sector, we'll be reviving the exports of our spices among other products,' said Leah M. Cruz, president of the Vegetable Importers, Exporters and Vendor Association (VIEVA) during the 2013 Agrilink 20th International Agribusiness Exhibition and Seminars.
Of these products, Cruz identified white onion and ginger as two crops the Department of Agriculture were preparing for export as part of its High Value Crops Development Program (HVCDP).
'We are happy that for our white onion project, we have twenty containers for export to Japan by February 2014,' she told Business World.
Each container has a 25 tonne capacity and will sell for $800 per tonne, Cruz said.
The white onion crop is late this season due to bad weather, but growers are working to export by February 2014.
The country's ginger exports are intended for Karachi, Pakistan and Singapore, with shipping due to start by the end of the year after growers began planting three months ago.
White onion and ginger were last exported by the Philippines around 18 years and ten years ago respectively, with declining quantity and subsequent falling demand discouraging the industry from producing crops for export.