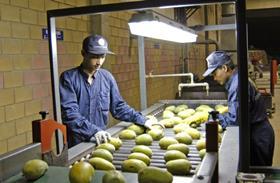 Pakistan's mango industry has taken a range of steps to overcome the challenges of Covid-19 and surpass its export target by around 45,000 tonnes.
According to a report from The Express Tribune, Pakistan has managed to export 125,000 tonnes of mangoes, reaching similar levels to 2019.
Waheed Ahmed, patron-in-chief of All Pakistan Fruit and Vegetable Exporters, Importers and Merchants Association (PFVA), said a proactive approach was key to handling the pandemic.
"Keeping in view the difficulties emerging from the global pandemic, the mango export target was set at 80,000 tonnes by the government," Waheed told The Express Tribune.
"Against all odds, the country's exporters managed to exceed the target by 45,000 tonnes by adopting aggressive strategies coupled with timely decision-making by the federal government."
Waheed said exporters quickly switched from exporting via air to sea and land routes and targeting middle eastern countries such as Afghanistan, UAE, Iran and Oman. Promotional efforts were also increased with the Trade Development Authority of Pakistan (TDAP) sending mangoes to 30 heads of state in 24 cities around the world.
"Taking timely advantage of this unique opportunity, President Arif Alvi called a special meeting and directed the stakeholders to launch an aggressive campaign for the promotion of local mangoes," he said.
"This was done by taking services of Pakistani missions abroad for sending mangoes as a gift to many heads of state with a view to improving diplomatic ties with those nations."
Waheed said Pakistan International Airlines also supported exporters by reducingairfreightcharges, however, it has still provided an obstacle to accessing some markets such as China.
Mango exporter Adnan Hafez told The Express Tribune, said freight prices had been prohibitive.
"There are few planes this year, and the price of air freight has increased by two to three times. Besides, there are also various uncertainties in customs declaration and clearance between the two countries during the epidemic," Adnan said.
"Some of my regular clients in China didn't dare to do it when they heard the freight was so expensive. I need to add the consignment above 1.5 tonnes to get a special discount. The smaller the consignment, the higher the price."