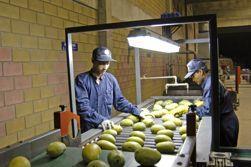 Pakistan is poised to start exporting mangoes to the US this season following the opening of a new irradiation plant in Lahore in January.

Pakistan's Horticulture Development and Export Board (PHDEB) said 100 tonnes would be exported in the first instance, provided that remaining USDA export prerequisites are finalised before the start of the mango season in May.

PHDEB will mark the export launch with retail promotional campaigns in New York and Los Angeles, the board's marketing manager Kashif Niazi told Fruitnet.

"Under the Equivalency Framework agreement with USDA, Pakistan can export mangoes under certain conditions which include irradiation to eliminate pests from mango orchards," Mr Niazi said. "Subsequently, Pakistan's first ever irradiation plant, Paras Foods (with Cobalt-60), is now operating under the initiative of PHDEB with an annual processing capacity of 60,000 tonnes. This will provide the necessary food safety requirements for export to the USA and other high-end markets. Another irradiation facility will be built shortly in Karachi (with E-Beam Technology), which will further enhance exports."

After the US, the PHDEB expects China to be the next new market to open its doors to Pakistani mangoes.