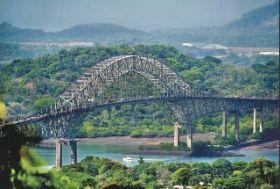 The Panama Canal in Central America is reportedly to benefit from the construction of a third bridge, according to a report by Prensa Libre.
The bridge will provide the first direct connection between Colón (a sea port on the Atlantic coast) and communities on the other side of the canal in the capital Panama City.
Panama's Vice-President and Foreign Minister Juan Carlos Varela explained to local media that the government will invite companies to bid for the US$300m construction project.
"We shall tender for the construction in the next three months `…` This will be very important because it will open access to many isolated communities," Mr Varela was quoted as saying.
The third bridge is apparently part of a wider government plan for a new infrastructure project at the canal.