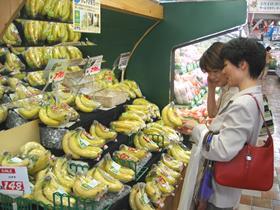 The Pilipino Banana Growers and Exporters Association (PBGEA) has called for a renegotiation of the Philippines' free trade agreement with Japan.
Under the Philippines-Japan Economic Partnership Agreement, banana exporters face 8.5 per cent to 18.5 per cent tariffs on shipments to Japan, which PBGEA's Stephen Antig said was negatively impacting the Philippines' share of the Japanese banana market, according to the Business Inquirer.
Calling for a reduction in tariffs, Antig said competing exporters from Mozambique, Vietnam, Costa Rica and Indonesia were benefiting for zero-tariff trade deals.
"It is only logical for Japanese importers to source part of their supplies from countries with zero tariffs to minimise business costs, hence, reducing their demand for Philippines bananas," Antig said. "The gradual decrease in volume is some sort of an embarrassment to the quality of Philippines exports."
Bananas were the leading fresh fruit consumed by Japanese households in 2014, and were ranked third after apples and mandarins for household expenditure, according to data from Japan's Ministry of Finance.