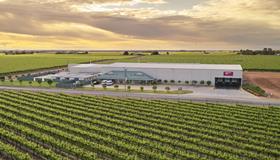 Perfection Fresh has announced it has moved to full ownership of leading vertically integrated table grape business Fruit Master Australia.
The transaction comes after key partners Joe Lanteri and Brett Pickering decided to exit their shareholdings in the business.
Perfection Fresh and Fruit Master have had a long existing relationship with the businessesmerging their table grape operations in 2016.
The addition of Fruit Master to Perfection Fresh brings a vertically integrated table grape operation with four strategically located farms across New South Wales, Victoria and Queensland and a network of grower-partners across Australia.
It also includes the rights to grow and market proprietary table grape varieties from some of the world's leading breeding programmes.
Michael Simonetta, chief executive of Perfection Fresh, said: "The acquisition is an excellent fit with Perfection Fresh and aligns with our focus on strategic channel growth in fresh produce both locally and in export markets.
"We have enjoyed a long-term partnership with the Fruit Master business and with Joe and Brett deciding to move on, the time was right."
Brett Pickering has decided to retire after spending a lifetime in the export trade. Joe Lanteri will stay on as a consultant for three years working on new projects and to assist with the integration.
"We will be forever grateful for Brett's contribution to the business, and we look forward to working closely with Joe over the next few years," said Simonetta.
Simonetta said this move would help Perfection Fresh bolster its presence in export markets with a product that had a strong reputation.
"We see this as an opportunity to further our capability in export markets. Around 70 per cent of Australian table grapes are exported, predominantly to Asian markets, where premium Australian-grown produce is prized," said Simonetta.
In addition to export growth, Simonetta said Perfection Fresh sees an opportunity to restore value to grapes within the domestic market, which has declined in recent times.
"The vast majority of Australian consumers are generally only familiar with grapes by colour – green, red and black. The reality is there are some amazing varieties that can indulge consumers as we look forward to working closer with our customers to highlight these opportunities."