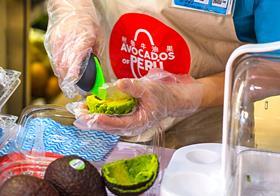 Recently, the Peruvian Hass Avocado Producers Association (ProHass) released the news that the volume of Peruvian avocados should reach 470,000 tonnes in 2021, an increase of 29.2 per cent over the previous season.
With a stable production period and consistent quality, Peru has now become China's largest supplier of avocados. To further grow the Chinese market, ProHass has launched this summer the 'Avocado, NEW Life!' campaign, inviting industry stakeholders to the scene to learn more about Peruvian avocados, and sharing general knowledge and eating ideas to educate end-consumers.
Peru's avocado exports are on the rise as production increases from new and young plantations. ProHass members currently represent around 80 per cent of Peru's avocado planted area, and this includes a range of medium and large producers. The association can therefore provide a consistent supply of high-quality avocados for the Chinese market.
One of ProHass's key goals with this national campaign is to provide support to all companies involved in the supply chain in China and promote professional handling and knowledge of how to ensure the freshness and taste of the fruit along the entire distribution chain until it reaches the final consumer.
ProHass has launched both online and offline promotions, establishing cooperation with leading local avocado distributors. Distribution channels for Peruvian fruit include leading domestic e-commerce platforms such as Tmall and supermarket chains, including Hema Fresh, Pagoda, Dingdong Grocery, Chunbo, Ole Supermarket and Sam's Club. Imported avocados from Peru are gaining popularity and trust among Chinese consumers, who are increasingly prioritising health and wellbeing.
This is the first year ProHass has embarked on a campaign of such significant scale. The campaign kicked off at Shanghai's Huizhan Fruit Wholesale Market on July 8th. Lin Yetao, deputy general manager of Shanghai Huizhan Fruit and Vegetable Market, said there is already a high acceptance of ready-to-eat avocados among consumers, adding that this kind of campaign is a welcome initiative to grow consumption.
Jason Xu of leading importer-distributor Shanghai Supafresh pointed out that technological development has not only improved the quality of Peruvian avocados, but also lengthened the export season and increased sales.
Their comments underline the great potential for Peruvian avocados in the vast Chinese market.
Peruvian trade office in Shanghai trade commissioner and consul-general of Peru in Shanghai, David G Gamarra, showed his deep appreciation for the support of ProHass to bring Peruvian avocados to Chinese consumers with this 2021 campaign.
The campaign includes a range online and offline activities. Supermarket promotions are taking place in first- and second-tier cities all over the country, including Beijing, Shanghai, Guangzhou, Xi'an and Changsha. These promotions will continue until the end of September.
ProHass is also working closely with local distributors and their associates around the country to educate and promote consumption amongst potential final consumers. The online activities involve a variety of key opinion leaders (KOLs) – Chinese influencers who will promote the health benefits of Peruvian avocados among a wider audience and educate them on how to eat and select fruit. While avocados are already very popular among young consumers, they're still unknown to a broad section of the population.