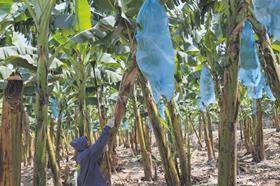 Challenges with production have hampered the Philippine banana industry with exports falling by 18.3 per cent year-on-year in 2020 (12 months to 31 December 2020).
According to a report from the Business Mirror, preliminary trade data from the Philippine Statistics Authority showed the Philippines exported 3.595m tonnes of bananas in 2020 compared to 4.403m tonnes in 2019, a decrease of 808,000 tonnes.
Stephen A Antig, executive director of the Pilipino Banana Growers and ExportersAssociation (PBGEA) said attributed decline to the effects of Covid-19 and TR4.
Movement restrictions implemented because of the pandemic not only caused logistics issues, but prevented growers from properly tending to their plantations and addressing the spread of TR4 in the Philippines.
Overall, banana production in the Philippines dropped 1.1 per cent year-on-year in 2020 to 9.056m tonnes.
"There was a lot of production wastage. The decline in both volume and value were expected despite the demand for fresh fruits, including bananas in foreign markets," Antig said.
Looking forward to 2021 Antig said there would be more challenges ahead with Covid-19 remaining and other exporters filling the supply gaps left by the Philippines.
"We also need to double-time overhauling the production areas badly affected by diseases. We are keeping our fingers crossed, though we will withstand the pandemic, hopefully with government's interventions," Antig said.
For more information on the Philippine banana industry read Asiafruit's interview withStephen A Antig in the Febuary edition of the magazine.