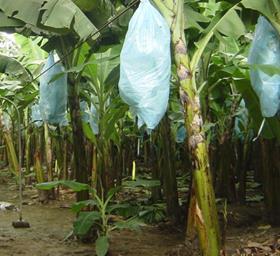 Philippine banana growers are positive about the prospects of the industry bouncing back next year from the heavy losses it suffered from Typhoon Bopha (Pablo) in 2012.
Last year's typhoon destroyed at least 14,600ha of Cavendish banana crops in the Davao region of southern Mindanao.
Southern Mindanao accounts for 48,535ha of Cavendish banana plantations, more than half of the country's total.
Industry losses because of the typhoon, mostly suffered by smaller growers, were estimated at PHP5bn (US$120m).
This year's exports are anticipated to reach PHP74bn (US$1.71bn), according to president of the Philippine Banana Growers and Exporters Association (PBGEA) Stephen Antig.
"As of now, just less than half of the total area has been rehabilitated," Antig told The Inquirer.
However, he conceded that smaller growers have been struggling to get back on their feet. "Small growers are having difficulty in getting their hands on resources they can use to start again. They could not easily avail themselves of loans from banks, which normally impose six to eight percent interest aside from collateral requirements."
Antig rates the Philippines as second to their major competitor Ecuador as a banana exporter, and is confident their produce can prove superior on taste and quality.
He is hopeful that new markets will offset their losses to Iran, which has become a difficult market to access due to foreign embargoes.