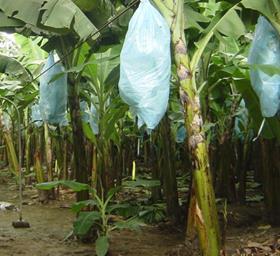 As tensions rise between Beijing and Manila over the ownership of a South China Sea shoal, the Philippines' banana trade with the Asian behemoth is looking increasingly shaky.
The Manila Standard reported an estimated US$16m of fruit had spoiled at Chinese ports as a result of intensified inspections processes.
Kidapawan Chamber of Commerce and Industry president Ramon Floresta told the newspaper 1,000 containers of Philippine bananas arrived in Beijing and Shanghai last week, and another 800 containers were in transit.
"The Mindanao plantation owners and farmers urge President Benigno Aquino III to immediately intervene and fast-track the settlement of the dispute," he said of the contested Scarborough Shoal.
"Chinese traders have stopped buying bananas and pineapples from us. With firm resolve, the standoff can be settled diplomatically.
"The Philippine government has to do it fast. The products are being made to rot in China's ports and we shoulder the huge losses. The freight alone costs US$1,200 per container."
According to a report in ABS-CBN News, the department of Agriculture will send a delegation to China this week to help resolve delays to the importation of Philippine bananas.
The country's trade secretary Gregory Domingo said on Monday the movement of bananas into China have slowed, and in some instances stalled completely, due to China's inspection process.
Domingo told ABS-CBN the delays were a phytosanitary issue rather than a diplomatic one and accordingly the government was sending technical experts rather than diplomats.
He played down suggestions the matter was linked to the territorial dispute between the two countries over the ownership of the Scarborough Shoal in the South China Sea.