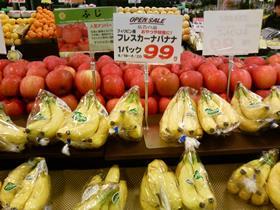 Facing increasing threats from other banana-producing countries, the Philippine banana industry is hoping its government will step in to relieve some of the pressure.
Dialogues are expected to be held with business partners in Korea and Japan in late November between Pilipino Banana Growers and exporters Association (PBGEA) officials, led by Stephen Antig.
"We only want a level playing field in South Korea, Japan, and other markets, where our bananas are taxed heavily," Antig said.
Antig and officials are hoping to convince government produce a bilateral trade agreement which would see Philippine banana tariffs in Korea reduced from 30 per cent to zero. PBGEA officials will also travel to Australia in late November to discuss the possibility of access during Australia's 'lean months'.
PGBEA chairman and CEO of Unifrutti Alberto Bacani said the issue facing the banana industry today is no longer about competition between companies, rather the survival of industry among growing competition.
"Unfortunately, we are facing so many challenges in the Philippines, while other banana-producing countries are doing everything to take away our markets from us by reducing prices through means like negotiating for reduced duties and subsidising freight rates," he said.
Davao City mayor Inday Sara Duterte has recognised the importance of the industry's sustainability and growth and encouraged the PBGEA to lead the way in GAP certification.
Victor Mercado, president of the PBGEA said Duterte's emphasis on GAP standards highlights the competitive landscape, but took a critical tone.
"For now, our focus is on sustaining the competitiveness of our bananas in the global market," he said. "We cannot remain competitive even if we strictly adhere to GAP standards because we are slapped with high tariffs while our competitors are able to bring in their exports tariff-free."
Costa Rica, Colombia, El Salvador, Honduras, Nicaragua, Panama, and Vietnam will benefit from zero import tariffs on bananas to South Korea by 2021. Peru has already received said access.