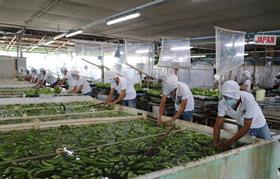 The Pilipino Banana Growers and Exporters Association (PBGEA) is seeking an improved price for the country's bananas in Japan to help combat rising costs.
According to a report from BusinessMirror, the PBGEA has contacted Philippine Agricultural Attache to Japan Jose IC Laquian, to ask for government support in requesting higher prices for Philippine bananas sold in the important Japanese market.
The PBGEA argued the increase would help the industry cope with challenges including disease outbreaks, rising production costs, Covid-19 challenges and more.
"To be able to continue to offer a product with high-quality standards that is compliant [with] market requirements, the Philippine banana industry is therefore seeking the support of the Philippine government through the embassy in requesting the markets of Philippine banana in Japan to adopt a higher pricing policy in retail stores and supermarkets to offset the spiralling inflationary costs," the industry body said in its letter, seen by BusinessMirror.
The industry body said data from Japan's Ministry of Internal Affairs & Communications showed the price of bananas in Japan had remained relativity flat at around US$2.36 per kilogram, meanwhile production costs had risen.
It proposed a number of solutions, such as government-to-government talks about the matter and discussions with relevant industry associations, including Japan Retailers Association, Japan Chain Stores Association, Japan Supermarkets Association and National Supermarket Associations.
The move follows efforts by Latin American banana producing countries to get European and US retailers to adopt a more realistic pricing structure.