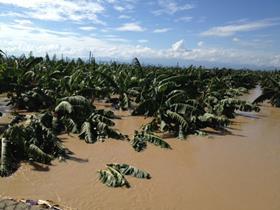 The El Niño weather phenomenon is making it more difficult for the Philippines to commit banana supplies to growing demand from global markets, according tothe Pilipino Banana Growers and Exporters Association and the country's Export Marketing Bureau.
The organisations told the Business Mirror this week that the Philippines was struggling to meet international demand because severe weather patterns were reducing production, meanwhile new markets like Iran are clamouring to buy 'huge quantities' of Philippine bananas now that UN sanctions had been lifted.
In its latest report, the Philippines Statistics Authority (PSA) said that banana volumes and revenues fell significantly in January-July this year compared to last.
Revenues from fresh banana exports in the period dropped by 64.66 per cent to US$241.78m, from last year's US$684.09m. In terms of volume, banana exports declined by 62.47 per cent to 748,160 tonnes, from 1.99m tonnes in 2014.
However the PSA noted that banana production rose by nearly 3 per cent to 2.33m tonnes in the third quarter of this year compared to last, thanks to increased acreage in some areas and recovery from typhoon damage.
The report said the harvest of banana in Central Luzon, Davao Region and the Autonomous Region in Muslim Mindanao increased in the January-to-September period.
"Production in Calabarzon and the Bicol Region recovered from the damages caused by Typhoon Glenda and in Central Visayas from Typhoon Yolanda," the PSA said.
The PSA said additional bearing hills were harvested in Western Visayas, Zamboanga Peninsula and Northern Mindanao as a result of the government's provision of tissue-cultured seedlings.
"Moreover, bigger fruits were harvested in Ilocos Region, Cagayan Valley, Central Luzon and Eastern Visayas. This was attributed to good soil moisture and less occurrence of calamities during the period," the report read.
Earlier, an official of the Department of Trade and Industry (DTI) said Mindanao's banana output could improve in the coming months due to the onset of the rainy season.