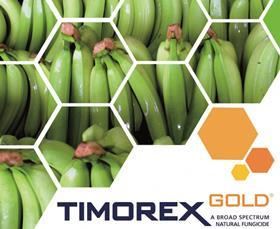 Stockton-Agrimor Philippines, a member of the Stockton Group, has announced today that the Philippine's Bureau of Agriculture and Fisheries Standards has approved the full registration of Timorex Gold use in Black Sigatoka disease on bananas.
According to Stockton, growers in the Philippines will now have an effective organic fungicide for the control of Black Sigatoka in conventional and organic production of banana and plantain.
'Timorex Gold is an excellent rotational tool for effective Resistance Management,' the group noted. 'By incorporating it regularly, Timorex Gold helps to reduce the overall chemical load and harmful residue levels in the plant. Timorex Gold is an eco-friendly biofungicide. It leaves no residue in the soil, water or air.'
During field trials, Timorex Gold demonstrated multiple sites of action and powerful prophylactic and curative efficacy against Black Sigatoka with 'exceptional performance' in the most intense disease pressure conditions. It offers a unique advantage under stress conditions caused by Mycosphaerella fijiensis in its different infectious stages.
The Stockton Group will be launching Timorex Gold on Thursday 30 July in Davao City, Philippines.
"This is an important breakthrough for the Philippines," said Arturo Alejar Jr, country manager of Stockton-Agrimor Philippines. "In the Philippines, Timorex Gold is the first organic fungicide for Black Sigatoka registered in pursuant of Republic Act 10068 otherwise known as the Organic Agriculture Act of 2010."
Timorex Gold is certified by leading organic associations worldwide, does not damage beneficial insects, and is a fully secure product for aerial spray application and other conventional methods. It addresses the banana growers' requirements for a greener and sustainable agricultural environment.