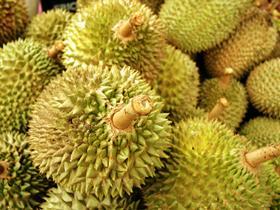 Malaysian durian grower-distributor DSR Fruits has detailed the advantages that could be delivered if the country's smallholder durian farmers joined forces.
According to a report from The Edge Markets, Datuk Ng Lian Poh, cofounder of DSR said the company had already brought together a number of growers and increased its production area from 1ha to 18ha.
"While difficult to get them to share trade secrets at first, they discovered that owning nearly 50 acres (20ha) as a group was quite different from having 10 acres (4ha) individually or in a family," Lian Poh said.
"By pooling resources and ideas, we created a systematic orchard management structure, such as implementing a proper harvesting and distribution system to improve yields."
Lian Poh said increasing the scale of the business would also give it the ability to use more technology.
"With larger acreage, deploying technology became more viable. We collect data on weather conditions and soil quality for tracking and forecasting," Lian Poh explained.
"We have also connected with local research institutions for recommendations on smart farming and crop management to better monitor the crops' health, maintain the fertility of land and enhance bottomline."
Lian Poh also revealed DSR's plans to expand production to over 200ha in the future and possibly explore a listing on Malaysia's securities exchange Bursa Malaysia.