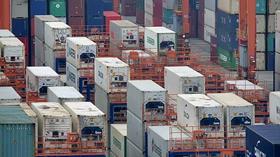 Exports may soon become unviable for some fresh produce suppliers as reefer and regular container rates surge.
According to a report from The Loadstar, a reefer market update by DHL Global Forwarding said a lack of equipment was also adding to the problem.
"A lot of places in the world at the moment lack reefer equipment.Additionally, dry container rates keep increasing to levels above reefer containers. As a result, shipping lines allocate space rather to dry instead of reefers," DHL said.
"Therefore, reefer equipment is sometimes stuck for more than six months in Asia, even though there is more than enough reefer cargo to ship."
DHL said prices are expected to continue to rise and at a certain point, it would become unprofitable for fresh produce growers to ship their product.
"Now, rates also keep increasing for reefers, more than 50 per cent in Q3-Q4, year-on-year. How can Chinese ginger be sold in Europe if transport costs are the same as the product's selling price? It's a bizarre situation," DHL explained.
"We will see this continuing in 2022 and, potentially, in 2023, with fewer products in supermarkets and mainly only larger shippers with strong financial backgrounds able to ship."
Rafael Llerena, chief executive of 3PL EasyFresh, told The Loadstar the situation put entire export lines at risk such as the melon trade from Central America.
"They are suffering from the tremendous rise in supply chain costs, with importers in the US and Europe now seeking to source melons from elsewhere, mostly Africa," said Llerena.