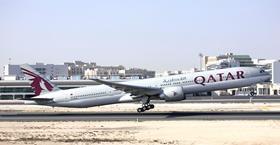 In response to coronavirus (Covid-19), Qatar Airways Cargo has expanded its capacity with the addition of freighter flights to Australia and 19 weekly freight-only passenger flights to India.
Both of these changes have been made as a result of a strong demand for perishable products, including fresh produce.
In Australia, the airline will operate twice-weekly freighters to Melbourne and Perth from Doha, with a tech stop at Singapore, adding 200 tonnes of main deck cargo capacity each week, each way.
This will complement its airline's existing belly-hold cargo services, bringing combined weekly capacity in and out of Australia to over 550 tonnes.
In India, Qatar Airways Cargo will now utilise passenger aircraft carrying freight-only in addition to its existing freighter services. This will increase the airline's weekly cargo capacity to India from 2,120 tonnes to 2,535 tonnes.
The belly-hold cargo flights will be operated on a turnaround basis without any cabin crew members or passengers on-board.
The 19 weekly return services from Doha will be spread across the following cities: Delhi (three weekly flights), Hyderabad (two weekly flights), Bengaluru (three weekly flights), Chennai (four weekly flights), Mumbai (five weekly flights), and Kolkata (two weekly flights).
Akbar Al Baker, chief executive of Qatar Airways Group, thanked the support of the Australian and Indian governments to help meet the soaring demand across the world for essential supplies, such as fresh produce, during the coronavirus pandemic.
"We are pleased to provide these additional services to bring essential commodities, fresh produce, food products, and medical supplies to Australia as we face this public health crisis," said Al Baker.
"We will also be transporting goods to other countries around the world, to meet the demand for Australian products, further supporting the local export industry," he added.
"We are thankful to the Indian government for their flexibility in allowing Qatar Airways to continue supporting worldwide trade connectivity by utilising passenger aircraft to carry freight only while passenger operations remain restricted."
On 30 March, Qatar Airways Cargo, also resumed scheduled belly-hold cargo operations to China adding additional cargo capacity amid increased demand for the shipment of immediate goods in and out of the region.