Thai exporter reaches agreement with Chinese consortium for fresh and frozen durian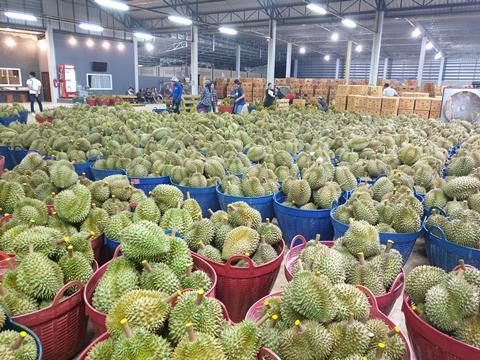 Leading Thai durian exporter Queen Frozen Fruit has reached an agreement with a Chinese consortium for upwards of Bt10bn (US$297m) worth of fresh durian.
According to a report from the Pattaya Mail, Deputy Agriculture and Cooperatives Minister Prapat Pothasuthon witnessed the signing of the deal between Queen Frozen Fruit and the group of Chinese state enterprises.
The Chinese consortium is buying 3,000 containers of fresh durian, worth Bt10bn, along with 2,000 containers of frozen durian. It has also expressed interest in buying rose apples and coconuts among other products.
Waranyaphak Simahatthanawekhin, Chairperson of Queen Frozen Fruit said Chinese consumers had a great appetite for Thai durian including varieties such as Mon Thong, Kan Yao and, more recently, Nam Dam.
Simahatthanawekhin said there was an opportunity to export more varied types of durian if orchard farmers expand their Nam Dam durian cultivation area. She added that her company has already received about 200,000 tonnes of durian orders from China for 2023.