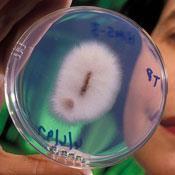 A banana farm in the Australian state of Queensland has been quarantined after testing positive for a potentially devastating strain of Panama disease, according to media reports.
Biosecurity Queensland has warned that the TR4 strain of Panama fungal disease could have serious consequences for the state's banana industry if it spreads from the affected plantation near Tully, south of Cairns.
Panama, a soil fungus, was found in the Northern Territory in 1997 and has since spread to a number of areas in the Top End, but this is the first time it has been detected at a Queensland plantation.
Chief biosecurity officer Jim Thompson said the affected farm was isolated after an initial test for the disease came back positive on Tuesday (3 March) night.
"We have advised the property owner and we are moving quickly to isolate and contain this suspect case," Thompson said today (4 March).
"[The disease] poses a serious threat to the banana industry in Australia and obviously Queensland represents 95 per cent of that.We're very concerned that if this does get into the banana industry in Queensland it could have a devastating impact."
The disease attacks the plant but does not affect the fruit which are still safe to eat.
Australian Banana Growers' Council chief executive Jim Pekin said strict quarantine regulations were in place to prevent the spread of this disease and protect the state's A$600m industry.
'It is important that we work together to contain this disease if it is confirmed,' he said.
According to Biosecurity Queensland, the first symptoms of the disease are yellowing and dying of the leaf edges.
'These leaves can turn brown and dry out. The leaves later collapse until the plant has the appearance of a stump with a skirt of dead or dying leaves,' the agency's website explains.
'Infected plants rarely fruit, and when they do they aren't marketable.'
Pekin said growers were urged to protect their property by using good on-farm biosecurity practices including ensuring the use of clean planting material such as tissue culture plants, not sharing farm machinery and equipment with other growers and removing all plant material and soil from all machinery, equipment, vehicles and footwear before entry to their property.