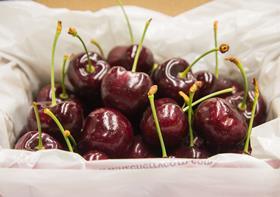 New Zealand cherry exporters have been left to ponder what might have been after a frustrating 2020/21 campaign.
A hot, dry run into harvest saw a strong start to export programmes in December (2020). However, a five-day rain event in January hit growing regions across the country hard, resulting in a significant reduction in export yields.
Data from peak industry body Summerfruit New Zealand puts overall exports at 2,508tonnes for the 2020/21 season, down 60 per cent on what may have been possible according to some industry sources.
"Without the five-day rain event the New Zealand cherry industry would have been capable of exporting approximately 6,250 tonnes," leading exporter New Zealand Cherry Corp said in update to its customers.
Taiwan was the leading market (by volume) for New Zealand cherry exports for the third straight season, taking 1,018 tonnes in 2020/21, up from 822 tonnes in 2019/20.
Mainland China was the second largest market, accounting for 548 tonnes despite trade disruptions.
"China's demand has been steadily growing year-on-year, especially for supply direct to the consumer, which came to an abrupt halt for the final week of January due to the unfounded story/rumour about Covid being found on some other exporter's packaging," New Zealand Cherry Corp said.
"This really turned the market and caused a major slump in prices and demand, especially so for Chilean cherries. It was certainly a difficult situation for our Chinese-based customers as Chinese New Year approached."
Vietnam (452 tonnes), Thailand (165 tonnes) and the US (95 tonnes) rounded out the top five markets.
A shortage of shipping containers due to Covid-19 and delays getting into most ports meant no New Zealand cherry companies exported fruit via seafreight. Therefore, there was a reliance on airfreight to complete export programmes.
"During the first half of January we were well supported by freighter planes direct to Taiwan from Christchurch," New Zealand Cherry Corp said. "This stopped in the third week of January and for the first time for the season we utilised both Auckland and Christchurch ports to ensure we got our cherries to our customers as quickly as possible. Delivery was as fast as 48 hours from picking from the tree."
Expectations for the upcoming season 2021/22 are for increased freight rates into most markets.
"Unfortunately, as we look ahead to next season, we do not appear to be getting much relief in either freighting option but we certainly hope there is more supply come December 2021," New Zealand Cherry Corp said.
"Expectations for the 2022 season, which has perfect timing for Chinese New Year, is 7,500 tonne and as always demand still outweighs supply so planning of allocating this volume will be important."