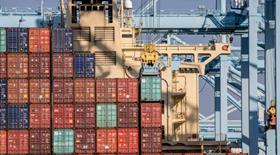 Propelled by replenishment of inventories and retailers preparing for upcoming holidays, October (2020) marked the busiest month in the Port of Los Angeles' 114-year history.
The US trade hub processed 980,729 TEUs in October, an increase of 27.3 per cent compared to October 2019. The performance eclipsed the previous single month record of 961,833 TEUs, set in August of this year.
Loaded imports at the port reached 506,613 TEUs over October. Loaded exports came in at 143,936 TEUs, while empty containers reached 330,180 TEUs.
Year to date, overall cargo volumes at the port lag by 5.3 per cent compared to 2019.
"Overall volume has been strong, yet the trade imbalance remains a concern," said Port of Los Angeles executive director Gene Seroka.
"For every three and a half containers that are imported into Los Angeles from abroad, only one container leaves filled with US exports. One-way trade will not put Americans back to work and it adds logistical challenges to the supply chain."
Seroka noted at the start of the Covid-19 pandemic that significant supply chain swings would occur. He said there could be more ahead.
"With Covid-19 cases on the rise nationwide, the US economic outlook remains uncertain," Seroka said. "Volume swings like the one we are seeing are an outgrowth of this uncertainty. We are using Port Optimizerdata and the expertise of our supply chain partners to prepare for a range of scenarios to respond to market demands in the months ahead."