Peruvian cold storage specialist Friopacking adds large-scale avocado and citrus selection lines new facility
Leading Peruvian cold storage manufacturer, Friopacking constructed a new processing factory featuring the new Reemoon Fruscan S7 tangerine and orange selection line.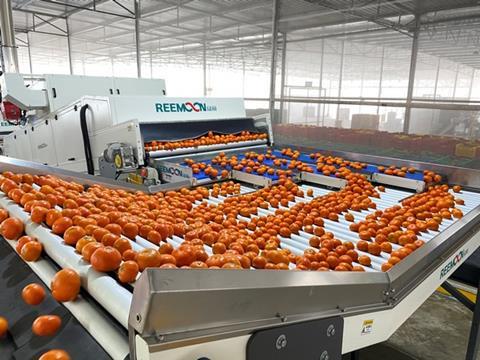 The line is now operating at full power and Vincent Zhang, manager and spokesperson of Jiangxi Reemoon Technology Holdings recently spoke about the specifications and advantages of this citrus fruit selection line.
Zhang explained how the client learned about Reemoon and why they chose the Reemoon selection line for their factory.
"Packing del Carmen is a subsidiary company of Friopacking, which is the largest cold storage manufacturer in Peru. The company primarily specialises in citrus fruits and avocados. They also constructed a new processing factory last year," said Zhang.
"We were recommended by clients from South Africa and Chile, and our local team personally visited the construction site. Packing del Carmen compared the products of a great number of companies but eventually settled on Reemoon.
"At the end of last year, Packing del Carmen placed an order with us for a citrus fruit selection line with six lanes and an avocado selection line with six lanes. We completed the installation of both selection lines in March this year."
Zhang explained the specifics of both lines in detail. "The client plans to use the citrus fruit selection line every year between May and September and the avocado selection line every year between January and August," said Zhang.
"The citrus fruit selection line is already operating at full power. This line is equipped with the latest visual sensory system Fruscan S7. The line includes a semi-automatic box-flipping machine, another machine that removes dust and dirt from fruit, and a machine that ejects undersized fruits. The line also includes machines for washing, pre-drying, hot-preservation, waxing, roasting, selection, and packing. The equipment can select on the basis of weight, size, colour, and flaws. The line can process up to 19 tonnes of fruit per hour," he added.
"The avocado line also features a semi-automatic box-flipping machine and equipment for washing, pre-drying, roasting, selection, and packing and selects based on weight, size, colour, and flaws. The hourly processing capacity of the avocado selection line is 27 tonnes, which is sufficient to handle the peak of the avocado season."
The Fruscan S7 is a visual sensory system researched and developed by Reemoon, and this is the system that makes the selection line special.
"We have gone through numerous tests and kept improving our sensory system until our technology matured. Our Fruscan S7 technology is already being used for the selection of cherries, apples, oranges, tangerines, avocados, tomatoes, plums, and bananas," said Zhang.
When asked about the advantages of the Reemoon Fruscan S7 compared to other similar products in the market, Zhang outlined its strengths.
"First, the Fruscan S7 consists of multiple machines that cover multiple angles, so that the fruit is scanned from every vantage point. The Fruscan S7 covers the complete 360 degrees and does not have a blind spot. This system will spot even the smallest flaw in a piece of fruit," Zhang said.
"Second, this system makes use of the most advanced AI, neural network technology, for image processing. The machine can teach itself, which means that the selection will become even more accurate over time," he added.
"Third, this technology can accurately determine product quality on the basis of folds and wrinkles in the fruit peel. The sensory equipment recognises a total of 16 different kinds of spots and flaws on citrus fruit. Additionally, the work interface of this selection line is user-friendly. Clients can adjust parameters to fit their own product quality criteria."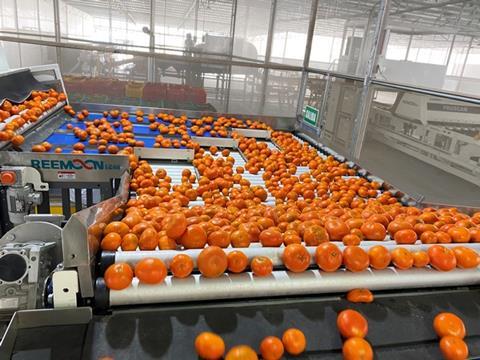 John Aldoradin, the general manager of Packing del Carmen, also provided feedback on the citrus fruit selection line now that it is up and running.
"The Reemoon selection line is built with solid material, and the selection line produces better results than similar selection lines from different suppliers. The Reemoon team also pays careful attention to detail in their workmanship and designs their system with humans in mind. Additionally, the selection software is easy to operate, and the selection system for blemishes on the citrus peel is outstanding," said Aldoradin.
"This selection line enables us to guarantee that our fruit is up to the highest international standards. It is also worth noting that the price-quality ratio of this equipment is excellent. That was one of the main reasons why we decided to opt for Reemoon. And the result is evidence that we made the right choice."
Zhang said this was the largest Reemoon project in Peru to date.
"In addition to these two selection lines, we also installed an avocado selection line with four lanes in Cañete," said Zhang.
"We dispatched two specialised engineers from China to strengthen the team in Peru so that we can offer even better customer service to the growing number of clients in Peru. We aim to offer our clients post-retail services that leave them without worries."
Jiangxi Reemoon Technology Holdings specialises in the research and development, design, and manufacturing of post-harvest fruit processing systems with AI technology. The company also offers fruit plantation and post-harvest processing services. Reemoon has also established a research institute for machine automation, which helps to automate entire processing lines and satisfies diverse customer demands.
For more information:
Vincent Zhang
Jiangxi Reemoon Technology Holdings
Tel.: +86 188 7973 0096
E-mail: overseas2@reemoon.com.cn
Website: www.reemoon.com