Reemoon has installed its first apple sorting machine in Mexico, furnishing Marsana's new packhouse with the latest technology.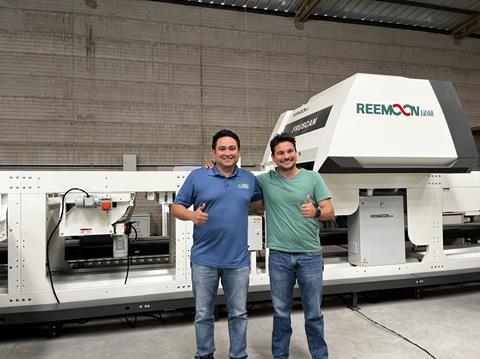 The Mexican apple packer is based in Cuautemoc, Chihuahua one of the country's major apple production regions. The medium-sized business had originally used manual sorting equipment and invested in Reemoon's intelligent sorting equipment to increase production capacity, control quality, and enhance brand awareness.
Reemoon's Latin America sales manager Vincent Zhang said this was the first apple sorting machine the company had installed in Mexico.
"Marsana built a new packaging plant next to its original packaging plant this year to expand production capacity. To ensure the smooth processing of apples throughout the year, Marsana needed to purchase sorting equipment with high quality, advanced technology and excellent sorting capabilities," said Zhang.
"At the beginning of this year, the Reemoon sales team carried out market development in Mexico's apple producing areas for the first time. We visited Marsana and met
general manager Gustavo Alonso Martinez Arzate who was building a new packhouse and inspecting sorting equipment suppliers.
"We introduced our Fruscan S7 visual inspection system, the types of defects detected and the detection accuracy, and showed the operation videos of the apple equipment that we export to many countries."
Gustavo was impressed by the cost effectiveness and the anti-collision capabilities of Reemoon's equipment and commissioned a two-lane apple sizer that was installed in June.
Marsana was supported by Reemoon's after sales engineer who helped to introduce the software system and sorting interface. An on-site apple test was used to demonstrate the defect recognition technology, affirming Gustavo's satisfaction with the new equipment.
Zhang said this installation featured a pre-arranged belt conveyor, a sorting machine, a visual inspection machine, a belt machine packaging table, and a full box conveyor line.
"A major feature of the equipment is that it uses Reemoon's latest Fruscan S7 visual inspection system, which can separately capture and model various defects of apples. The detection function and accuracy have been improved, and the latest visual inspection software system features in-depth self-learning, and the system will have better and better performance with the accumulation of sorting volume," said Zhang.
"The Fruscan S7 vision detection system can accurately remove defective fruit and achieve high-quality fruit at a good price. This is one of the biggest advantages of Reemoon equipment compared with similar products on the market."
While Reemoon's technology is new to Mexico, it has been used extensively in Turkey, Chile, Russia and South Africa and the US. Fruscan S7's internal quality inspection capabilities, including high-precision mouldy core detection, are even gaining attention in New Zealand.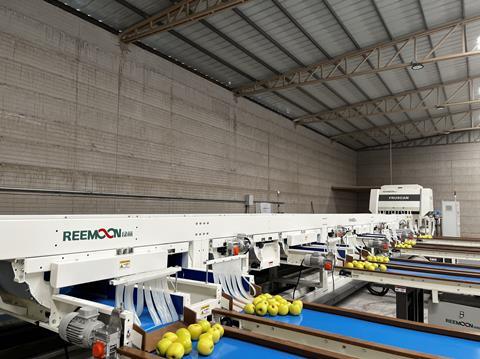 Zhang said Reemoon already has plans for more projects in Mexico with a full line four-lane installation scheduled for September, it is also preparing to establish a local branch.
"We established an office, an after-sales warehouse and formed a local team in Mexico's key apple producing area this year," said Zhang.
"Compared with other fruit types, such as avocados, lemons, and oranges, the mechanisation of apple sorting in Mexico is still in a relatively low state, there are still a large number of packaging factories in the production area that use manual selection. With advanced technology, cost-effective and high-quality service, Reemoon is bound to win a broad market in the Mexican apple production area."
Zhang said Reemoon has a long history as the leading provider of sorting equipment to China's apple industry – the world's largest apple producer – so it is uniquely placed to serve the needs of the Mexican industry where competition is strong.
"In China apples are mainly the bagged Fuji variety, which is much less resistant to bumps than local Mexican apples. Therefore, Reemoon has had unique technical solutions for apple sizer bump resistance for many years," said Zhang.
"In the Mexican market competition is fierce. To stand out among many brands, our strategy is to highlight technical advantages and improve cost-effectiveness. We also provide a full range of after-sales services. We do this by reserving and training overseas installation and after-sales teams in domestic factories as well as employing experienced engineers to provide more timely services."
Zhang said Reemoon has also invested heavily in the R&D and manufacturing of intelligent post-harvest equipment.
"The company has also set up a mechanical automation research institute, which is dedicated to the automation of the entire processing line to meet the needs of different customers," he said.
Reemoon Latin America sales manager: Vincent Zhang
Phone: +86 188 7973 0096
Company Phone: +86 797 3338899
Email: overseas2@reemoon.com.cn
Website: www.reemoon.com