Multi-purpose, modular platform automates tree and vine crop tasks
New Zealand-based Robotics Plus has unveiled an autonomous modular vehicle, designed to alleviate agriculture labour shortages.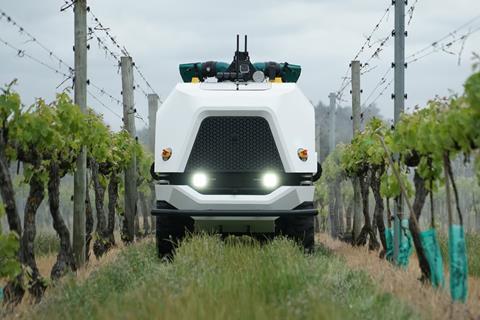 The multi-purpose Unmanned Ground Vehicle (UGV) uses a combination of vision systems and other technologies to sense the orchard or vineyard environment, allowing it to optimise tasks and carry out intelligent and targeted applications.
The first application for the technology is intelligent spraying. The system varies the flow rate to ensure spray efficacy whilst reducing inputs. Spray rates and airspeed is controlled in zones and responds as the sprayer moves along orchard or vineyard rows.
Growers can also rotate multiple tools on the adaptable and configurable agriculture platform, depending on the day's work ­– for jobs such as weed control, mulching, mowing, and crop analysis.
"We've created a flexible agricultural platform with the power to adapt to different crop types with tools for various applications, providing year-round automation benefits and maximizing machine utilisation," says Steve Saunders, co-founder and CEO of Robotics Plus.
"To adapt and thrive in a changing world and create a sustainable and competitive future in the agricultural and speciality tree crop sector - growers and orchardists need automation that solves real-world problems, reduces reliance on increasingly costly and hard-to-find machine operators and provides data-driven insights for informed decision-making."
Driving the future
The highly manoeuvrable UGV has a small footprint and unique steering configuration, incorporating electric steering and independent motors.
It can be deployed across various crop types with a minimum row spacing of 1.8 metres.
Alistair Scarfe, co-founder and CTO of Robotics Plus, says the hybrid electric diesel UGV delivers outstanding performance in the field.
"Electric drive motors give superior torque and control, whilst a Tier 4 diesel generator means the vehicle can operate for extended periods," Scarfe says. "Fuel consumption is minimised by electrically driving all systems, including tools."
Partnerships crucial
Robotics Plus has partnered with leading technology suppliers – including Yamaha Motor Company, Autonomous Solutions, and Croplands – to increase the robustness and support for the product in a demanding environment such as agriculture.
Saunders says by taking a partnership approach, Robotics Plus has created a best-in-class platform for the agriculture industry.
"We've benefited from our partner's deep knowledge and access to high-quality technology components," Saunders explains. "In addition, growers can deploy Quantum sprayers with configurations adaptable to various crop types, growing formats, and heights."