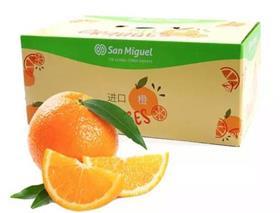 China's largest online retailer, JD.com, has started selling fruit with San Miguel branding in its online retail stores, signifying further growth in the commercial bond between the two companies.
María del Pilar Arévalo, commercial manager for Asia at San Miguel, said the partnership began three years ago with the supply of South African citrus.
"We started working together with oranges and grapefruits from South Africa to supply the online retail channel and their offline stores, 7fresh," said Arévalo.
"During 2020, we added mandarins from South Africa and lemons from Argentina, allowing us to stablish as a multi-origin supplier."
San Miguel's branding and packaging was officially launched on the Chinese e-commerce platform this year.
The marketing activities, which were originally intended for oranges from South Africa, have also included video content focused on showing the origins and quality of the product.
However, the marketing campaigns were expanded following the arrival of the first shipments of Argentinian lemons in August 2020, after almost 20 years of negotiations between Argentina and China for market access.
In a release, San Miguel said its commercial partnership with JD.com signifies the next step in expanding its business in one the most important markets in the world.
"By implementing these kinds of activities, we believe we can offer more value to the Chinese consumers that appreciate imported products, quality and brand," noted Arévalo.
Due to the seasonality of production in each Hemisphere, San Miguel's products cover a window when there is no local fruit in China.
San Miguel said the fresh lemon offer is especially relevant in China, a country where the tea consumption increases every year and where both lemon juice and slices of fresh lemon are key ingredients in the beverage.
Una Wang, purchasing manager for JD.com, said San Miguel had been supporting JD.com to provide high-quality products to its online and offline consumers.
"We are aiming to broaden San Miguel product line on our platform and promote Multi-origin branding," said Wang.
"JD Fresh has been making an effort to develop the supply chain system to our competitive advantage, with operating warehouse and delivery system by ourselves," she added.
Arévalo highlighted the importance of the partnership in order for San Miguel to reach its goal in the region, adding, "Citrus consumption is rising in China, and having JD as a strategic partner allows us to reach Chinese territory in an effective way with high quality produce."