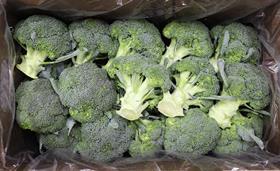 Australian vegetable exporters have turned to seafreight and utilised new technology to increase shelf-life in response to supply chain disruption caused by Covid-19.
A pilot project by the Queensland Department of Agriculture and Fisheries, Ausveg and Hort Innovation used controlled atmosphere (CA) technology to trial sea freight to New Zealand and Asia
Trials on broccoli, sweet corn, green beans and iceberg lettuce were conducted using modified atmosphere packaging (MAP) liners and CA conditions inside containers with the aim of extending storage life.
Queensland Department of Agriculture and Fisheries principal horticulturist Jodie Campbell said the results from the trials were extremely promising.
"Shipping broccoli to Japan and Taiwan, we found the ideal container temperature was close to 0oC while increasing temperatures to 4oC reduced shelf life by up to seven days," Campbell said.
"With sweet corn, the results revealed that shipping under a CA treatment doubled shelf life on arrival in market to up to ten days.
"There was significant variation in storage limits of different varieties of green beans, sweet corn and lettuce, so cultivar selection to suit the longer sea freight supply chain will also be important.
"These results show packaging and controlled atmosphere treatments can reduce the risks associated with shipping, providing exporters with the knowledge and confidence to pursue seafreight."
The volume of highly perishable vegetables exported by airfreight declined in 2020 due to the pandemic. Ausveg chief executive Michael Coote said exploring the viability of sea freight was critical for the industry.
"The value of national fresh vegetable exports dipped 6.3 per cent in 2020 to A$263m (US$191m). Volumes were down 6.6 per cent over the year. This was due to the disruptions caused by Covid-19," Coote said.
"The pandemic has disrupted both sea and airfreight over the past 12 months. This has added to the challenges that exporters have faced trying to continue servicing their customers in international markets.
"This research project is important. It provides vegetable exporters with additional insights into which export markets are technically viable by seafreight and will help underpin short and longer-term export growth for the industry."