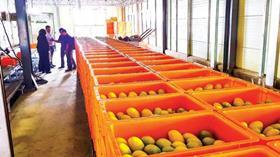 Chang Hoon Lee, managing director of Hyundai Agro, has told Cambodian media the company is expecting to export its first container of mangoes to South Korea this year.
The company, a subsidiary of the South Korean car conglomerate, first entered the Cambodian mango industry when it invested in a 260ha plantation in Kampong Sepu in 2014. The plantation has grown to become one of the largest plantations in Cambodia.
Earlier this year the company finished constructing a US$4m processing and distributioncentre and has since had it approved by South Korean authorities. Lee told the Khmer Times he hoped the first shipment of mangoes will arrive in October.
"I would like for this to happen before Prime Minister Hun Sen and Korean President Moon Jae-in meet again in Bussan in October," Lee said.
"If we can conclude the shipment before this summit, I would be very happy indeed and will celebrate by eating Cambodian mango. Fortunately, the Korean government is supporting us to make it happen."
The farm currently produces 5,000 tonnes of Keo Romeat mangoes per year, but only about 2,000 tonnes are expected to be exported.
Hyundai Agro has already tested international markets with shipments to Hong Kong and Europe. Despite a poor initial response in Hong Kong the company was eventually able to break into the market.
"The first three shipments were unsuccessful, but the fourth was a big success. Now, people in Hong Kong are starting to know and appreciate Cambodian mangoes," Lee said. "A group of Hong Kong buyers visited last week, and we signed a contract for a big shipment."
The challenge now will be to get a positive response in South Korea and then Japan, which is its next target. However, Lee believes Hyundai's reputation will give it an advantage.
"For four years, we developed the process to be used for growing mango, focusing on quality and safety, and strictly controlling the use of pesticides and fertilizers." he said.
"If high standards are not met, the product won't sell well in Korea and Japan. 'If Hyundai is the producer, you can trust the product,' this is our motto."