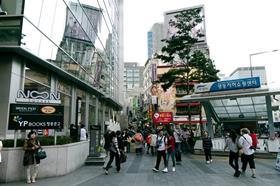 The Seoul city government has unveiled a plan to expand its urban farming space from 202ha to 240ha by 2024.
According to a report from Yonhap News Agency, the government is set to invest ₩251.4bn (US$216.1m) until 2024 to expand the area available for farming and increase the population's farming skills.
With this funding it also hopes to create 1m 'farmers' by developing farming communities around new vertical gardens and farms on rooftops and building walls. The government will provide supplies and tools to establish these farms on houses and schools and other buildings around the city.
There also plans to run farming support centres in all of the city's 25 wards and run exchange programmes with rural areas across the country.
According to the city government's data, the number of urban farmers in Seoul is estimated at 647,000 as of 2019, compared with 45,000 in 2011, while the amount of farming space has increased nearly seven times since 2011 from 29ha to 202ha.
Enjoyed this free article from Asiafruit Magazine and its team of editors? Don't miss out on even more in-depth analysis, plus all the latest news from the fresh produce business. Subscribe now toAsiafruit Magazine.