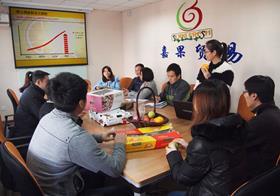 Online retail is booming in China, and food is one of the leading categories driving the sector's enormous and ongoing growth.
China's business-to-consumer online sales hit Yn782.6bn (US$124.2bn) in 2011, a 53.7 per cent growth on the previous year, according to figures from its Ministry of Commerce. The country's online sales sector is expected to overtake the US to become the world's largest within a few years.
Taking part in that growth are retailers like Shanghai Supafresh, which is at the leading edge of China's online fresh produce market.
Apart from importing produce and distributing it through the Chinese wholesale market system, Shanghai Supafresh runs three online storefronts, as well as a television shopping programme and phone ordering system.
The company is focused purely on the Shanghai market at this stage, and is expecting more than 20 per cent growth in sales by the end of 2012 compared to the previous year, Shanghai Supafresh's Jason Xu told Asiafruit. "Supafresh imports fresh fruits from a lot of countries, such as the US, Australia, Chile, New Zealand, South Africa and South East Asian countries," Xu explained. "After selecting carefully and repacking the fruits, they're distributed through TV sales and our online shop. We sold about 180,000 boxes of fruit last year and this year the volume will be more than 220,000 boxes."
Shanghai Supafresh has three separate online storefronts and trades under the names Youhuiyuan and Jiaguoyuan. "For TV shopping, customers can pick up the phone or log into the website to place orders while they are watching the programme," added the company's Heidi Zhang. "Normally each show is about half an hour and the phone line is still open after the show."
Because the company has direct access to consumers, Xu said it is able to introduce them to new products, educate them, and promote brands and places of origin.
Chilean blueberries are one example of that. Shanghai Supafresh began promoting new-season Chilean blueberries in November and the company aimed to begin the season with six to eight pallets by air each week, followed by a trial of three seafreighted containers direct to Shanghai, explained Xu.
"In fact we have co-operated with `Chilean promotional bureau` ProChile to promote Chilean fruit in the Chinese market," he said. "We sell Chilean grapes, cherries, apples, plums and kiwifruit through our TV programme and online shop. We definitely will promote Chilean blueberries through our distribution channels."
Xu agreed with the Chilean industry that the introduction of the supplier's blueberries into China must take a slow and steady approach. He says a flood of Chilean blueberries will spark a price battle and erode quality as fruit waits to sell, which will lose importers money and turn them off the product. "It will be a good start to approach the Chinese market stably," he concluded.