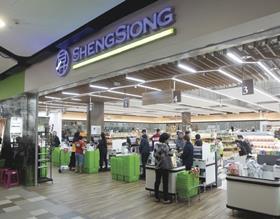 Singapore-based supermarket operator Sheng Siong has posted a 49.9 per cent year-on-year increase in net profit for the first three months of 2020 (1Q2020).
The retailer said its net profit of S$29m (US$20.5m) was a result of increased revenue driven by elevated demand arising from the coronavirus (Covid-19) pandemic.
The company said Singapore's lockdown triggered the change in demand which saw its 1Q2020 revenue improve 30.7 per cent year-on-year to S$328.7m (US$232.5m).
"When the government raised Covid-19's Disease Outbreak Response System (Dorscon) from yellow to orange on 7 February shortly after Chinese New Year, the first round of elevated demand was triggered," Sheng Siong said in a statement.
"Since then demand has been elevated as more people are eating at home and probably, loading up their pantry as well."
The retailer said it experienced no major disruptions in the supply chain during 1Q2020 and the ratio of fresh to non-fresh sales remained the same in 1Q2020 compared with 1Q2019.
Lim Hock Chee, chief executive officer, of Sheng Siong said going forward the company was looking to expand its fresh produce offering.
"Moving ahead, we remain committed to our strategy of opening supermarkets in areas where our potential customers reside, but we have no presence," Lim said.
"We will continue with our efforts to nurture the growth of the new stores and build on the momentum of improving comparable same store sales in Singapore and China, while focusing on improving gross margin and cost efficiency by changing the sales mix with a higher proportion of fresh produce and deriving more efficiency gains in the supply chain."